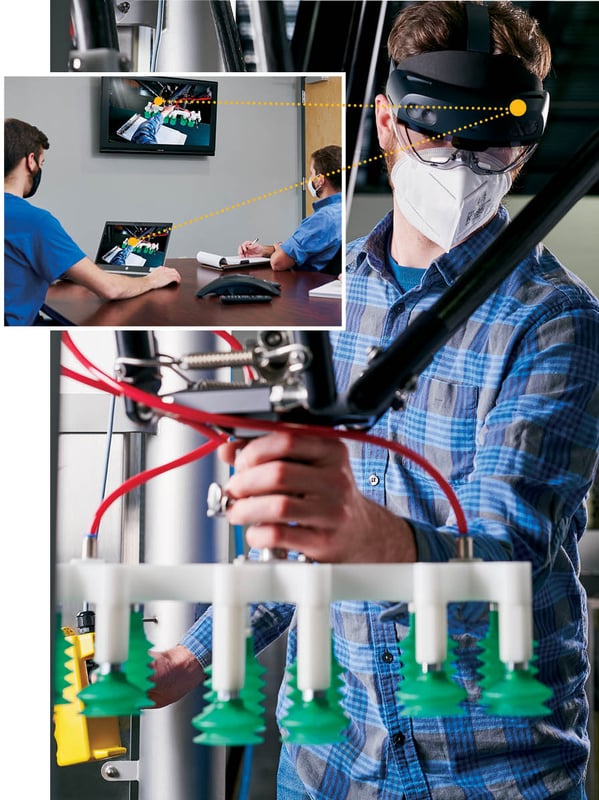 JLS® is overcoming travel time, plant access restrictions, and more to provide customers service, support, and training with a new mixed reality monitoring technology. The company's JLS View uses Microsoft's HoloLens 2 technology and connects customers with support needs whether they are around the corner or the world from JLS technicians. Now, JLS can be hand-in-hand with its customers and experience exactly what they see and hear in real-time.
How it works is simple. JLS customers use the HoloLens technology by wearing a webcam headset. Goggles display the customer's point of view directly in the view of JLS technicians in real-time. This shows JLS technicians what customers are seeing on the packaging line and experiencing with the machinery as if the technicians were physically at the plant. Since JLS technicians are literally seeing what the customer is seeing, they can provide guidance and instructions immediately.

Because JLS View allows immediate diagnosis and troubleshooting of a machine, customers not only save time but also experience tremendous cost savings. Since the time for a JLS technician to travel to the plant is eliminated and troubleshooting starts earlier, customers can resume production faster than waiting for a physical plant service visit.
In addition, customers benefit from a collaborative approach in problem-solving during service calls with JLS View. Because JLS View enables technicians to see the production line in real-time, a team of engineers, programmers, and other JLS experts versus just a single technician can immediately meet to troubleshoot and provide a successful solution.
JLS View isn't just for service calls. It's also a helpful tool for virtual training, technical support, and production line modifications. JLS can now help customers overcome workforce labor shortages with high operator turnover by minimizing disruptions due to training all while optimizing production, depending on changing needs and demand, with recipe creation.
JLS is continually searching for better ways to utilize technology to offer the best customer support and training. JLS View is helping to make customer support seamless and efficient from anywhere at any time.
Contact JLS today to learn more about JLS View and how it can help optimize your production line.